Asana: A Robust and Scalable Wunderlist Alternative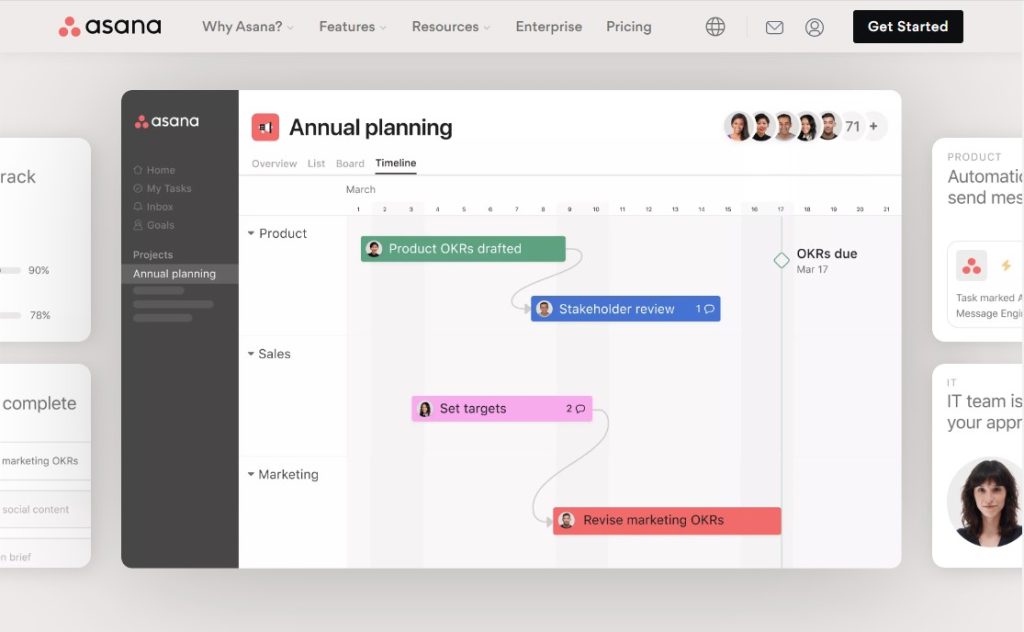 In the realm of task management tools, Asana has carved out a prominent space for itself. With its powerful features, it's no surprise that Asana is often considered as a solid alternative to Wunderlist. Here's a comprehensive review of Asana, exploring its unique features and capabilities that set it apart.
Introduction: A Comprehensive Task Management Tool
Asana is a versatile task and project management tool that allows individuals and teams to plan, organise, and manage their work effectively. Its approach to task management is different from Wunderlist in several respects, primarily in terms of its extensive feature set, adaptability, and a focus on project management.
Setting Up: Project Creation and Organisation
One of Asana's significant strengths is the ease of creating and organising projects. You can create a project from scratch or choose from a variety of pre-built templates. Asana provides a unique way of organising tasks in projects, allowing you to switch between a list view, board view (similar to Trello), and a timeline view.
Task Management: More Than Just To-Do Lists
Creating Tasks
Creating tasks in Asana is simple and straightforward, much like Wunderlist. However, Asana takes it up a notch by providing more fields for a detailed description, attaching files, and even adding subtasks.
Task Details
Every task in Asana can be as simple or as complex as you need. You can set due dates, assignees, add tags for easy searching, and include descriptions. You can also create subtasks within tasks, making it perfect for large, complex projects.
Prioritising Tasks
Asana enables you to prioritise tasks using custom fields. You can create a custom field for priority, and set levels like high, medium, and low. This feature provides a clear visual indicator of a task's priority level, which is especially helpful when managing large projects with numerous tasks.
Collaboration: Teamwork Made Easy
Asana excels at facilitating team collaboration. Team members can comment on tasks, attach relevant files, and tag other members. It also offers a Conversations tab for each project, which acts as a dedicated space for team discussions, removing the need for lengthy email threads.
Asana's Unique Features
Timeline
Asana's Timeline is a Gantt chart-like view that provides a visual plan of the project, displaying how each task fits into the larger scheme of things. This feature helps in understanding how tasks are interconnected, and it's particularly beneficial for managing complex projects.
Portfolios
Portfolios provide a high-level overview of all your projects in one place, making it easy to report on your team's work and track progress in real-time.
Goals
This is a newer feature in Asana that helps teams set and track their objectives. You can link goals to the projects that will help achieve them, giving everyone a clear understanding of the work that contributes to these goals.
Integrations: Connecting Your Favourite Tools
Asana has robust integration capabilities. It connects with many popular apps and services, including Google Drive, Dropbox, Slack, Microsoft Teams, and Zoom. It also supports automation with tools like Zapier and Asana's built-in rule builder, ensuring smooth workflows and reducing manual work.
Mobile and Desktop Compatibility
Like Wunderlist, Asana offers cross-platform compatibility. It's available on web browsers, and it has apps for iOS and Android devices. The interface across platforms is consistent, which means you can switch between devices without losing your workflow.
Conclusion
Asana is a comprehensive, feature-rich task and project management tool that proves a worthy alternative to Wunderlist. It provides the familiar task creation and management functionalities,
but enhances them with more complex features such as project planning, team collaboration, and advanced workflow configurations.
Pricing: Flexible Plans to Suit Your Needs
Asana offers a free tier with limited features, suitable for individuals or small teams. For more extensive use, Asana offers three paid tiers: Premium, Business, and Enterprise. The paid plans unlock more advanced features, including timeline, custom fields, and advanced integrations. It provides a greater degree of flexibility than Wunderlist, which had only a single paid tier.
Support and Resources: Ensuring a Smooth Experience
Asana offers comprehensive support and learning resources to help users get the most out of their platform. The Asana Guide is a knowledge hub with articles, videos, and interactive courses that cover everything from the basics to more advanced topics. Premium, Business, and Enterprise customers also get priority support for faster assistance.
User Experience: Intuitive and User-Friendly
Despite its robust feature set, Asana manages to maintain an intuitive and user-friendly interface. Tasks, projects, and conversations are all accessible from the main dashboard, and the overall design is clean and uncluttered. Users migrating from Wunderlist will find Asana's learning curve to be quite manageable.
Potential Drawbacks
Asana's strengths are numerous, but there might be a few considerations for some users. The extensive feature set might be overkill for those seeking a simple, straightforward task management tool. Moreover, while Asana does offer a free plan, many of its powerful features are only available in the paid tiers.
Final Verdict
In summary, Asana is an excellent choice for those who are looking for a Wunderlist alternative that offers more than just task management. Its range of features, from basic task management to advanced project planning and team collaboration, makes it a versatile and scalable tool that can cater to the diverse needs of different users.
Whether you're an individual managing personal tasks or a large team coordinating complex projects, Asana offers a compelling mix of features, flexibility, and user-friendliness. While it may take some time to fully utilise all its capabilities, the effort is likely to pay off in terms of improved productivity and streamlined workflows.