Evernote: An Alternative to Wunderlist for Task Management and Beyond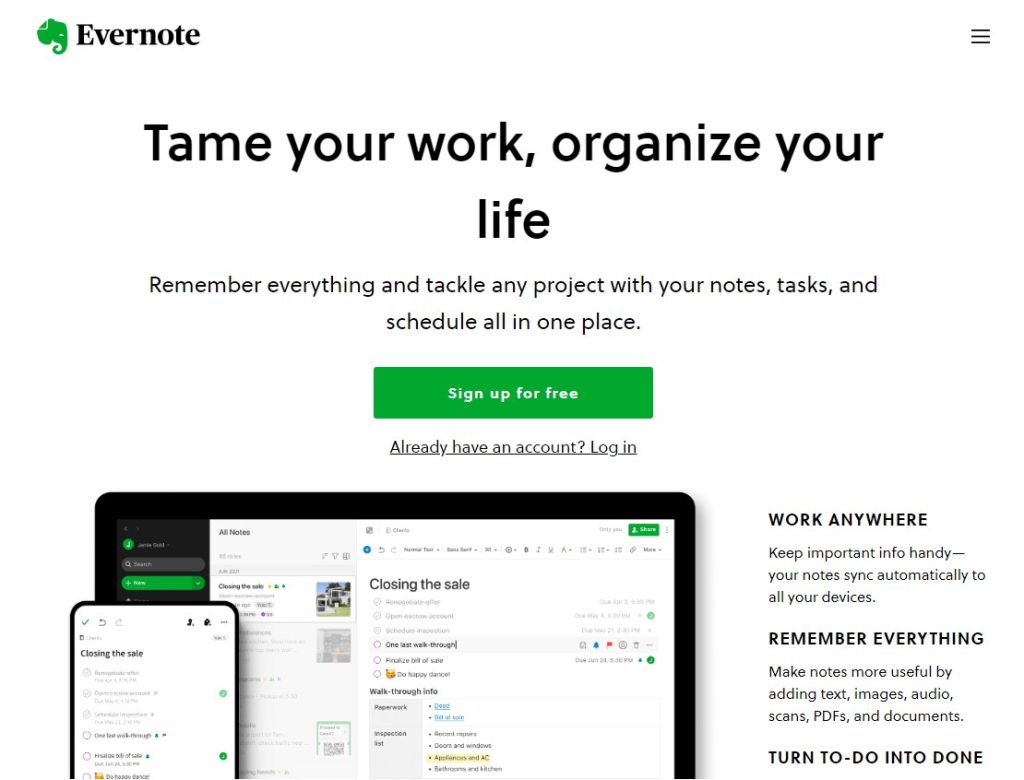 In the post-Wunderlist era, individuals and businesses are seeking capable replacements to handle their task management needs. While Wunderlist was a dedicated to-do list app, Evernote brings a wider scope of functionality to the table, offering robust note-taking features and organisational capabilities. In this comprehensive review, we delve into Evernote as an alternative to Wunderlist.
Core Features: Note-Taking at Its Finest
Evernote isn't just a task manager; it's a comprehensive platform designed to capture, organise, and retrieve information of all types.
Task Management
While Evernote may not be the first platform that comes to mind for task management, it offers adequate capabilities in this regard. You can create checklists, set reminders, and tag your tasks to stay organised. Tasks in Evernote can be as simple or as detailed as needed, making it a versatile tool for managing to-do lists.
Note-Taking and Documentation
Evernote shines as a note-taking tool. You can create notes, attach files, embed links, and even annotate images. With its rich text editor, your notes can include headers, bullet points, tables, and more. Evernote also supports voice memos and handwritten notes, offering flexibility in how you capture information.
Search and Organisation
Evernote features powerful search and organization capabilities. You can use tags and notebooks to organize your notes, and Evernote's search feature can even identify text within images and attachments.
Integration and Sharing
Evernote integrates with numerous apps, such as Google Drive, Slack, and Microsoft Teams, facilitating workflow continuity. Additionally, you can share your notes with others, making Evernote suitable for collaborative projects.
Pricing: Free Basic Plan with Premium Options
Evernote offers a free Basic plan that provides a decent array of features, including note-taking, search, and organisation. However, the Basic plan has limitations, like a 60 MB monthly upload limit and syncing across only two devices. For more demanding users, Evernote offers Premium and Business plans that include additional features such as PDF annotation, unlimited device syncing, and priority customer support.
Support and Resources: Guides, FAQs, and Community Support
Evernote provides extensive support resources, including guides, FAQs, and a community forum where you can ask questions and share ideas. Premium and Business users also get priority email support.
User Experience: Straightforward and Intuitive
Evernote's interface is clean and easy to navigate, making it simple for users to capture and retrieve information. While Evernote may not have as many dedicated task management features as Wunderlist, its simplicity and focus on note-taking make it an excellent tool for managing tasks within a broader organizational context.
Potential Drawbacks
Evernote's strength lies in note-taking and organisation rather than dedicated task management, so those seeking a pure to-do list app might find it lacking. Additionally, you'll need to upgrade to a paid plan to access some of Evernote's best features, such as offline access and unlimited device syncing.
Final Verdict
Evernote offers a different approach to task management than Wunderlist. Its primary focus is on capturing and organising information, which makes it an excellent tool for those who need to manage tasks within the context of comprehensive note-taking and documentation.
While it may not be the perfect fit for users looking for a straightforward Wunderlist replacement, Evernote's robust capabilities make it a powerful tool for those in search of an integrated solution for managing tasks and notes. With Evernote, you're not just ticking off tasks but creating a rich database of your work, projects, and ideas.